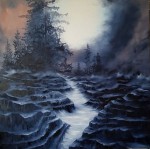 2019-04-06 - 2019-04-11

Galleri T, Gamla Stan
Saturday 6/4 at 13:00 pm - 16:00 pm I'm exhibiting my work at Galleri T in Gamla Stan, Österlånggatan 3 in Stockholm. I'll be at the gallery every day until 11/4 if you can't make it for the exhibition day!

Welcome!
https://alltomstockholm.se/pagang/utstallning-april-gamla/

2019-01-26
Konstpoolen, Nynäshamn
26 january- 30 january
Exhibition; "kring demokrati och människovärde"


2019-01-05
I'v had a long break from painting but I recently got my own studio at home. It's so important with my own space for my art. I like when it's organized cause I have problem working when I don't have space or the house looks like a mess. Today I finally finished this oil painting, "City" 30x90cm